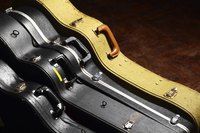 Traveling with your guitar -- electric or acoustic -- is tricky business. You don't want to subject it to the brute handling it will get as checked baggage, but it might be too big to be allowed as a carry-on. TSA guidelines allow musical instruments as carry-on items but leave it up to individual airlines to determine whether they will allow something as large as a guitar to be brought into the passenger compartment of a plane.
Prep Your Instrument Beforehand
Long before you get on the plane, you should prepare your guitar for travel. Humidify your guitar in advance. Loosen the strings and check the case for any empty spaces where the instrument might bang around a bit. Fill those spaces with something soft, such as towels or T-shirts. You can even use crumpled newspaper as padding. Make sure not to pack your guitar too tightly, however, as it may need to be taken out of its case for inspection at security checkpoints.
Carry-On Tips and Tricks
If at all possible, you will want to take your guitar on the plane with you as a carry-on. You'll lessen the chance of damage if you keep your instrument with you rather than consign it to the checked baggage compartment. This might not always be possible, however. Be determined, but don't get into a fight if the airline personnel insist on other accommodations. The larger the plane, the greater the likelihood of getting your guitar on board with you. If you're flying a short hop on a small commuter craft, you might have to gate-check your instrument. A gate-check isn't ideal but it also isn't the end of the world, since at least you avoid the roughness of the conveyer belt experience. You can also ask if your guitar can be stowed in a coat closet while on board the aircraft.
Board Early
You increase your chances of bringing your guitar as a carry-on if you board early. This might mean paying for priority boarding or using an airline rewards program to secure early boarding privileges. Or it might just mean selecting a seat near the back of the plane, which loads in before the front of the plane. That way you'll have a chance to stow your guitar before the overhead bins fill up with other passengers' luggage.