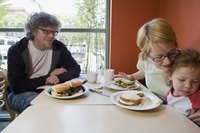 Increasing lunch business in your restaurant involves a combination of exceptional customer care, fast service and an array of offerings not available through your competition.
Be Fast and Friendly
Lunch diners are often on a tight schedule and have to get in and out of your restaurant quickly to stay within their allotted lunch hour. However, just because lunch service is often fast doesn't mean it can't be friendly. Good customer service is vital to a restaurant's success, particularly its repeat business and its level of employee satisfaction. Have adequate staff on hand to meet your lunch rush and quickly turn tables. This approach keeps customers happy, increases traffic and adds to your profits.
Make It To Go
If you don't already offer carry-out or curbside service, start offering them. Allow customers to place orders online or by phone and to efficiently pick up meals to go. According to the National Restaurant Association, this approach is cost-effective, expedient and helps ensure ordering accuracy. Have runners on staff to take orders to cars and ring up customers without them ever having to leave their vehicles. Look into the cost-benefit of adding a drive-through or walk-up window to further expedite lunch traffic and increase customer flow.
Service Businesses and Schools
Create a menu that's business-friendly, such as boxed lunches for meetings or seminars or family-style menu items that can be used for office potlucks. Add delivery service or catering menus to further develop your business clientele, and advertise with fliers and billboards in and around office parks. Connect with local schools to provide "second lunch" meals for after-school programs or for sports teams before practices or events. Offer teacher specials and deliver lunches that go beyond the standard cafeteria fare.
Create Dining Incentives & Specials
Implement a customer rewards program to increase lunch traffic. Give diners freebies or discounts after so many lunch purchases, like a free drink, desert, two-for-one lunch special or a gift card. According to Food Service Warehouse, specialty food item days, like Italian or Tex-Mex, or combo offers, like an entree, side and drink, can draw in diners looking for something special. Feature dessert items to go to increase sales -- for example, mini cookie collections from a local bakery. This helps pad your tickets while maintaining a brisk traffic.
Differentiate Your Restaurant
Set yourself apart from the competition to entice lunchtime traffic. For example, offer free Wi-Fi for those working during the lunch hour or private areas for business lunches. If you cater to families, create a seating section away from your main dining areas with hands-on activities and kid-friendly foods.