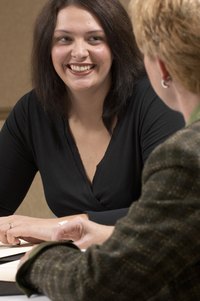 An interview is an opportunity for you to learn more about a job opening and an employer to learn more about your background and skills. However, you have only a limited amount of time in which to make a favorable impression. Knowing what to expect during the interview and doing your homework will help you answer interview questions with ease. Even better, you'll be more comfortable during the process, which means that you will appear confident and able to handle pressure well.
Research your prospective employer. If you know what type of applicant the company is looking for, you can better sell your qualifications during the interview. Talk with the company's human resources department and ask what type of candidate and skills the employer is seeking. Brainstorm experiences where you've demonstrated those skills. This will give you concrete examples you can use during the interview.
Rehearse your answers to standard interview questions. Although it's impossible to anticipate the exact questions a hiring manager will ask, there are three different types of questions, including those concerning education, work experience and career goals, according to Monmouth University. Ask a friend or family member to role play with you to fine-tune your answers to potential questions.
Gather the necessary items for your interview. Print a copy of your resume and cover letter for each interviewer, as well as one for yourself. Bring a copy of your professional references. A copy of the job description is also helpful and will show the employer that you're organized. If the employer has asked you to bring a specific item, such as a portfolio of your previous work, pack it as well.
Take a test drive to the interview location the day before the interview. This will ensure that you don't get lost on the big day.
Dress appropriately for the interview. Dress conservatively and select attire that's a step up from what you would normally wear to work. Women should wear very little makeup, and both men and women should avoid wearing cologne or perfume.
Make it to the interview at least 15 minutes early; being late to an interview might cost you the job.
Pay attention to nonverbal communication. Make eye contact while you're speaking to the hiring manager. Sit up straight in your chair and attentively listen to the hiring manager when he speaks. These actions will convey to the manager that you're interested in the job and give him a better impression of yourself.
Give detailed examples when responding to interview questions. For example, if the hiring manager asks about your strengths, you might tell her you're results-driven. However, you can also go a step further by providing an example of that strength, such as that you implemented a project that increased sales by 35 percent over a three-month period.
Send a thank you note the day after the interview thanking the interviewer for his time and reaffirming your interest in the position.