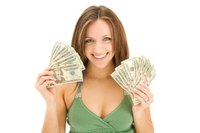 Learning where to get the grant money is just as important as applying for it. Use these tips to get your piece of the government grant pie.
Things You'll Need
Computer to apply for grants with
Understanding the Application Is Essential Once you have the application in hand you don't want to immediately start filling it out. First,take some time to simply read over the entire thing. Make sure you understand every question on every page before beginning. If you come across something you don't understand make sure you get clarification before you start writing.
To help narrow down which funders will make a good fit, you will need to gather: • Information on all the grants that have previously been awarded, • The organizations annual reports, • A copy of IRS form 990-PF from private funding foundations, • Basic financial information, • Information on the foundation that includes names of officers and board members, • Company history information. Once you have all the information in hand, take some time to study it. This will give you a good idea of what the foundation finds important. Then take some time to weed through the foundations to determine which ones make a truly good fit for your project.
Locating Possible Funding Sources - Many public libraries and companies have databases and directories for those seeking funds. Locating one of these either through your employer or at the library will prove helpful. If the public library does not have one, check with any libraries at area colleges. There is reference material that is usually readily available for grant seekers. It's just a matter of locating where it's at in your area. One of the most helpful resources you can have at your disposal is the information for the Foundation Center, where you can get information on grants and funding programs on a large scale. The Foundation Center can be reached at 800-424-9836. The Center does have local branches they work with that can help you locate an area collections house. These individualcenters, found in each state, have many directories that are available for your use. They usually have them in paper and digital formats.