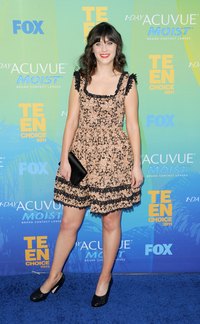 Actress and singer Zooey Deschanel is known for her quirky, feminine fashion choices, and her style-savvy red carpet looks. Becoming a household name when she landed the lead role in Fox's comedy "New Girl," the fashion-forward star wears vintage-inspired dresses with a flair for drama and embraces accessories that add whimsy to her outfits. A fixture on fashion insiders' best-dressed lists, Deschanel doesn't shy away from looks that evoke both girlish innocence and grown-up sultriness at the same time.
Wear a dress that cinches at the waist and features an A-line skirt. Deschanel wears the feminine, vintage-inspired silhouette in a variety of styles – sleeveless, long-sleeved, crewneck or with a plunging neckline.
Add pumps in a complementary color. Deschanel often pairs solid black mary-jane pumps with tights as part of her signature style.
Opt for sweet details like flowers and bows on dresses, shoes and handbags. These finishing touches round out Deschanel's ladylike look.
Rock vintage-inspired and retro glasses that epitomize geek chic. Unleash your inner 60s nerdy librarian by wearing plastic or resin, retro-styled frames.
Cut your bangs so that they fall slightly above your eyebrows. Wear the rest of your hair below shoulder length, and add a flower or bow. Deschanel styles her iconic tresses to match her outfits, often including quirky hair accessories.