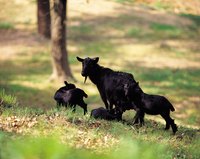 Selling that healthy well-adjusted calf is the name of the game for cow/calf producers. Weaning is best done at home with as little stress for the calf as possible.
Things You'll Need
Small pasture with water availability
Calf feed with molasses
Time and patience
Electric fencing
Develop a small pasture to use for weaning and other separation needs. Install electric fence around the inside of the perimeter to keep calves from suckling through the fence.
For two days separate your calf and its mother from the herd. Always include one other babysitter cow or heifer in the mix. Begin to feed small amounts of the calf feed in the feed bunk. The calf may not have any interest at all, but at least will see what its mother does when feed is in the bunk. It will also learn where the water is in the new area.
On the third day, separate the cow and calf. Leave the babysitter cow with the calf. Put feed out for the babysitter cow. The calf may or may not try any. Try to do this when you don't have to rise and shine early in the morning the next day -- your first night will be noisy! No one will be happy.
By the fourth day, the calf is getting hungry. He's probably still hanging around the fence, and the mother cow may be also. Put some feed as close to him as you can without spooking him. He may try a bit today. Continue this routine until the calf is eating well from the feed bunk.