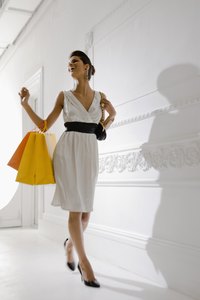 You want to choose clothes that flatter your body shape. One of the alluring aspects of fashion is that different types of clothes can show off the parts of your body that you like and hide other areas. The way a dress is designed can thus provide the illusion of a well-proportioned body -- all without dieting or plastic surgery.
Determine your body shape. For instance, if you have a small waist and your chest and hips have equal widths, you probably have an hourglass shape. A pear-shaped body has a bottom that's larger than the top. In an apple shape, most of the weight is carried in the center of the torso, and there is little or no indentation at the waist.
Choose virtually any style of dress if you have an hourglass shape. If you are on the shorter side, don't wear a dress any lower than the knee, or else the dress will overwhelm you. Shorter women should also only wear small prints. Larger prints work better for taller women. If you have an hourglass figure, you can avoid dresses with a lot of embellishment since your figure is already attention-getting. Go for simple but attractive dresses.
Make your top look larger than it already is if you have a pear-shaped body. This will balance out your hips. Wear a dress that allows you to use bra inserts, also known as cutlets, to give your bustline a boost. Another option is to find a structured dress that creates the illusion of a larger bust with a more narrow bottom. A dress with embellishments such as rhinestones or embroidery on top will draw the eye up toward the face and therefore make the bottom appear more in proportion. Another option is to choose a dress that is a lighter color on top and darker on the bottom portion of the dress.
Choose a very structured dress if you have an apple-shaped body. This will help create the appearance of an hourglass figure. You don't want anything too flowing or flimsy. A dress with a thick belt or band around the center will create the illusion of a waist, even if you don't really have one. Also, remember that a dress with a crossover design that creates a waist will also be flattering for an apple shape. Dark colors such as black, navy and brown will assist in minimizing your tummy.