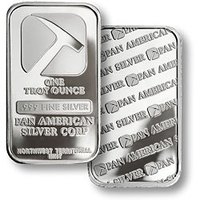 Many financial experts tout silver bullion as a great investment opportunity. Here are some tips on how to purchase silver bullion.
So you've made the decision to purchase some silver bullion as an investment. Now, it's time to figure out the details. The first thing to decide is what form you want to purchase your silver in. You can purchase silver coins or silver bars. Or you can purchase your silver bullion via your online trading account by buying an ETF such as SLV, which is backed by physical silver in a warehouse. There are also mutual funds that focus their investments on metals and mining. You will have to decide what's best for you, but I recommend taking physical possession of your silver in the form of silver coins or silver bars. Engelhard and Johnson Matthey are the two most trusted silver assayers out there, so get silver bullion poured and stamped by them if you can.
The next step is to decide where you are going to purchase your silver. Obviously, if you chose to buy an ETF or Mutual Fund, you will be buying via your online brokerage account. For bars and coins, you have several options. Your local coin dealer will gladly sell you some silver coins or bars at a premium above spot price. Ebay always has sellers of silver bullion. Or you can buy direct from a mint. Links to some mints are in the resources section below.

Now it's time to decide how much silver bullion you want to buy. Silver coins and bars are sold by the Troy Ounce. For small amounts, pick up a few ounces at a time. For larger purchases of silver bullion, I recommend buying 100 Troy Ounce bars that are stamped by Engelhard or Johnson Matthey.
Payment will always be made in the form of cash, unless you buy your silver on Ebay, in which case you can use Paypal and a credit card. Just be sure to use a reputable seller and pay extra for shipping insurance.