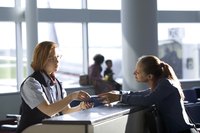 Joining frequent flyer programs of major airline carriers in the United States is easy to do online by visiting each airline's website. You can join without purchasing a ticket or enroll at the time you make a reservation. You can also join by telephone, at the airport's ticket counter or en route in the airplane by asking a flight attendant for an enrollment form.
Earning Miles
Each airline has its own rules for calculating frequent flyer miles earned per trip. You may also earn more miles for purchasing a business or first-class ticket versus a coach ticket. Many airlines have branded credit cards that grant you more mileage-earning options. Many major U.S. hotels and rental car agencies also participate in the major airline frequent flyer programs, as do some retail businesses. Check each program's rules for benefits, restrictions and mileage expiration terms.
Airline Changes
Changes in the U.S. airline industry can affect your frequent flyer programs; for example, when two airlines merge, the frequent flyer programs may combine into one. Read the airline's communications to gain the most from your frequent flyer program in the midst of these industry changes.