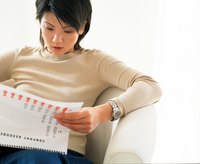 The chartered financial analyst (CFA) designation demonstrates the holder's competence in portfolio management and investment research. Earning the designation requires passing three separate exams that cover a wide body of knowledge and requires similar amounts of learning in a graduate-level degree program. Notorious for its low passing rates -- on average, 38 percent of candidates pass the level I CFA exam at any one sitting -- studying for the level I exam is vital to earning this desirable credential.
Enroll in the CFA program and register for your first exam. Check the eligibility requirements before enrolling.
Review the curriculum ebook and study session outlines you receive from the CFA Institute.
Create a study schedule. Count out how many weeks you have before the exam. Reserve the week of the exam for final review. Divide the curriculum, problem sets and study sessions over the remaining weeks.
Stick to your schedule. Refer to the learning outcome statements — part of the study sessions provided by the CFA Institute — to check your progress as you go. Keep working on any learning outcomes that you do not feel comfortable with. Make flashcards for any hard-to-remember concepts.
Take the mock exam at least two weeks before the actual exam. Simulate test conditions by taking the exam with a timer, a clear desk and a quiet space.
Grade your mock exam. Pay attention to the topics and types of questions that you get wrong. Give extra time to those topics during your final weeks of study.