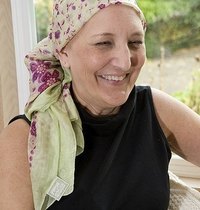 Learning how to look great with cancer scarves is easy to do with the simple steps below.
Pick a scarf. It seems rather basic, but with all of the scarves available it can be intimidating trying to pick the right one. Some cancer patients prefer bright, colorful ones, others prefer something more subdued. The one thing they can agree on though is that it must be fashionable. Investigate the fabrics available, as well, and find one that is not only comfortable, but that does not irritate your sensitive skin during chemotherapy.
Decide how you would like to wear your fashionable scarf. Will you want to wear it all up? Do you want to wrap it so that part of it hangs down in a cowl? Cancer patients have the opportunity to wear their scarves in many different ways. If you are unsure as to your options, visit websites that specialize in this type of headwear for people going through chemotherapy.
Learning how to wrap your scarf is the next key step in the process. Again, this is a rather basic step, but until it is mastered, scarves can be very intimidating. If you do well with illustrated directions you can find books at your local library or bookstore on fashionable ways to wrap your head. Some people do better by actually seeing the process done. If you have access to a cancer support group you may do well in asking someone to show you how they wrap theirs. However, if you prefer to practice and learn the process in the privacy of your own home you may want to visit YouTube.com and search for instructional videos.
Add an accessory to your scarf to add pizazz to your outfit. A simple brooch pinned to one side, a clipped on flower over your ear or a colorful ribbon for accent will all make your scarves fashionable and fun. If your headwear is bright and colorful, opt for a subdued accessory. If you have a monotone silk, try adding a fun, flirty flower in a bright color. Whether you have cancer or not, wearing a headpiece should be a comfortable, fun experience.