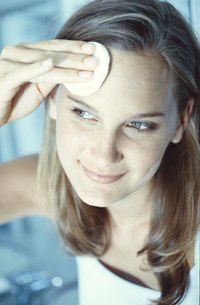 Benzoyl peroxide is one of several drugs that can treat acne. It comes in creams and cleansers that reduce the amount of acne-causing bacteria on your skin, according to WebMD. Some are available over-the-counter while others are available only by prescription. Monitor your skin's reaction to the drug; skin irritation is a side effect and may mean you need to use it less often or stop completely.
Things You'll Need
Benzoyl peroxide
Gentle facial cleanser
If you're using a cleanser with benzoyl peroxide, wet your face, then apply the cleanser. Rub your face in circular motions for 10 to 20 seconds to let the medication work. Rinse your face, then moisturize with an oil-free lotion.
If you're using benzoyl peroxide cream, wash your face with a gentle cleanser that does not contain the medication. Pat your face dry.
Apply a thin layer of benzoyl peroxide gel or cream to the trouble spots.
Apply an oil-free moisturizer.
Monitor your skin's reaction. If it becomes dry or flaky, reduce your use of products containing benzoyl peroxide. For example, if you were using a cleanser every day, cut back to every other day and use a gentle cleanser in between.