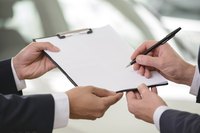 Whether you are lending a car to your friend or involved in a business transaction, recording the transaction on paper can legally protect you against a rental dispute. A written agreement can be used to record the initial state of the vehicle, the rental rate and the obligations and responsibilities of both parties. Understanding the legal implications of the agreement's components can help you determine how to construct your own car rental contract.
Vehicle Details
Writing the specifications of the vehicle in a contract can help avoid confusion if the car is lost or stolen. These specifications may include the type and make of the vehicle, the year it was produced and the color and model. To distinguish the rental car from a similar one, record the vehicle identification number, engine number and registration number. The agreement should note the state of the car before its rental. Because it is a signed contract, it demonstrates that both parties are aware of the vehicle's condition. It can also be used as a reference for comparison when the car is returned.
Insurance
To protect yourself financially in the event of a collision or other disaster, add an indemnity clause that prevents you -- the owner of a vehicle -- from being held liable in case of an accident, theft, flood or fire. In an indemnity clause, the driver is responsible for damage that occurs when he is renting the vehicle. This is often used by car rental companies but can also apply to individual car owners if permitted by the insurance company. Your policy will indicate whether or not a third party is protected in the event of an accident in your vehicle. If your current policy does not cover a third party, you need to specify this in the agreement.
Payments
The agreement should specify the rental amount and payment dates. The rental document is a legally binding agreement that confirms both renter and owner have agreed to these terms. The specified payment dates may vary according to your agreement; you might have a single payment or payments over a set period. Any interest charged in the rental fee needs to be stated in the contract. Security deposit amounts and your return policy should also be stated.
Rental Details
Rental details to include in your contract include anything you feel is necessary to legally protect yourself. For instance, if you are renting the vehicle to a person for a specified period or for specific days on a continual or contractual basis, clarify in the contract when this person has a right to use the rented vehicle. Both private individuals and rental companies often define in the contract the geographical boundaries within which the driver can operate the vehicle. If the vehicle is not involved in a rent-to-own contract, the agreement should also specify the final return date.