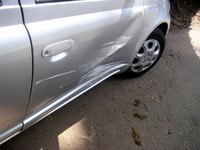 In the event of an accident, most states require you to stop when it is safe to do so, and exchange information with the other driver. Unfortunately this does not always happen and sometimes the other driver flees the scene. You are now left to file a hit and run claim with your own insurance company. The most common reason why drivers leave the scene is because they are uninsured. Published in a January 2009 news release, the Insurance Research Council reported that in 2007, 13.8% of motorists were driving uninsured.
Get as much information as possible from the vehicle at fault. Make, model, color and license plate number are all very important details.
Report the accident to the police immediately. Many insurance companies will not settle a hit and run claim unless a police report has been filed.
Obtain the name, addresses and telephone numbers of any witnesses.
Review your policy limits. Your policy many only provide coverage if you carry collision or uninsured motorists property damage on your vehicle.
Contact your agent or insurance company. Most companies now provide a free 24-hour claims hotline. The phone number should be in your policy packet.
Request the forms needed to file your claim. Complete them in a timely fashion and return them to your insurance company along with a copy of the police report, eyewitnesses statements and two estimates for the damage.
Follow up with the police and insurance company in about seven to 10 business days to ensure your case is being handled swiftly and properly.