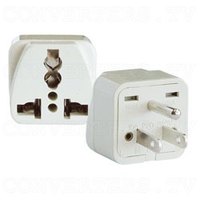 Traveling abroad can prove difficult for people who carry a lot of electronics with them. North American power outlets output 110 volts at 60hz, while most other countries in the world use outlets that output 220 volts at 50hz. The power outlets themselves are also configured differently in that they take different shaped plugs. Very simply, what this means is that most of your devices and power cords won't work if you take them abroad. Luckily, a variety of devices have been created to fix this problem.
Things You'll Need
Voltage converter
Power transformer
Buy a voltage converter if you plan on using something like a hairdryer or clothes iron. Voltage converters will make up the difference between the voltage needed by the device and the voltage available from the outlet, allowing these devices to work like normal. A standard voltage converter is only meant to be used for short periods of time, which makes them ideal for these types of situations.
Use a transformer for larger devices like televisions and personal computers. Transformers operate essentially the same way as a standard voltage converter but are intended to be used for longer periods of time with devices that use larger amounts of power.
Buy a wall outlet adapter. The plugs on North American wall outlets are flat, so all of the power cords for devices sold in America have flat pins. Wall outlets in Europe and Asia have flat plugs which will not work with American power cords. A wall outlet adapter will allow you to plug your American power cords into European and Asian wall outlets.