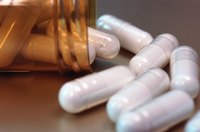 Developing a skin rash is never a welcome thing. The itchy, painful area on your skin can affect how you feel overall and how you move or perform basic daily tasks. Treating a rash so you can continue with your normal life is probably at the forefront of your mind, but if you have never had this type of rash before, you need to get it diagnosed first. Skin rash treatments can change based on the cause, and you do not want to use an ineffective treatment.
Definition
"Skin rash" is a blanket term for any irritation of the skin that shows up as a red, itchy patch. The skin can flake or weep, and it may or may not hurt. Rashes are symptoms and not diseases themselves, so treatment involves two paths. One is soothing the rash itself, and the other is taking care of the cause. Sometimes nothing can really be done about the cause; for example, Bryant University notes that you really can't do anything about pityriasis rosea because it is caused by a virus. In terms of the cause, you would just have to let it run its course. However, the university notes you can take antihistamines to try to calm the rash itself if you are experiencing itching.
Cautions
Treatments for skin rashes will vary from rash to rash because the cause and co-occurring symptoms can be different for everyone. Two people with pityriasis rosea, for example, which is a rash in which itchy spots appear around the chest, back and neck, may have totally different reactions, with one person having some minor spots that do not itch, and the other developing very large areas covered by the rash. This variability means that unless you have had a specific rash before, you need to see your doctor to determine the best course of action. Even if you have had a similar rash before, if it lingers or gets worse, or it does not behave as you expected, see your doctor. Rashes with different causes can look very similar, and you need to be sure you are addressing the cause correctly.
Sample Treatments
Treatments for skin rashes range from over-the-counter creams and oral antihistamines, to control the itching and inflammation that often occur with rashes, to prescription medications that are much stronger. When no known cause is present, you might be limited to treating only the rash symptoms with antihistamines or corticosteroids, depending on what your doctor thinks is appropriate. Treatments might also include stress relief if your doctor determines that the rash is a response to stress.
Multiple Approaches
In cases where the rash could be due to many underlying causes, treatment could involve several approaches. For example, the University of Maryland Medical Center notes that erythema, which is basically a red rash that has many subtypes, can be caused by anything from mononucleosis to reactions to medication, and in many cases no real cause can be determined. For those cases where the underlying cause is known, treatment will involve targeting that cause, such as stopping a medication to which you've had a reaction if the consequences of not taking it will not hurt you. In addition to that, you would probably have some sort of anti-itch or anti-inflammatory medication for the rash itself.
What You Need to Do
If you develop a new rash, make an appointment with your doctor. Rashes are often not serious, but they can indicate a long-lasting problem. If the rash is acute, you need to find the cause and end your exposure to it. Misdiagnosing a rash could mean missing a major change in your health. Follow your doctor's instructions for applying or taking any medication. In the meantime, try to protect the rash from clothing and other possible irritants, and try not to use cosmetics on the rash unless you have gotten your doctor's approval. If you think the rash might be contagious, do not touch it, and get to your doctor as soon as possible.