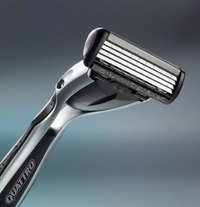 Learn how to reduce irritation and acne breakouts through proper shaving techniques and using the right treatments!
Things You'll Need
A comfortable razor
Sensitive Skin shaving cream
Hydrocortisone cream
(optional) after shave
Some people see an increase in acne once they start to grow hair on their face. While often it is coincidental with other hormonal changes, it can sometimes be due to treatable causes on the face itself!
Acne can be caused by irritation of the skin, included hair growing and shaving. Most people will see an improvement if they shave. Shaving daily also helps to reduce irritation than if you were to only shave every other day or less often.
Before you shave, get the face wet. A good way to do this is to run a wash cloth under warm water and let it sit on the face. This will open the pores and relax the hair so it will be easier to shave.
Make sure you have a good shaving cream or gel. Sensitive shaving gel is recommended. Additionally, a razor that causes minimal irritation is what you want. The Gillette razors with three or more blades are great.
After letting your face soak under the damp warm cloth, take your gel and lather up the areas you intend to shave. Once you're done, start shaving WITH the grain. By shaving with the grain you reduce the chance of having ingrown hairs as well as reduce irritation to your face. This means shaving down on your face toward the ground. Take one stroke at a time then rinse. Ideally you should only want to shave over each spot once.
After you're done, finish with a mild cleanser like clearisil face wash or neutrogena oil free-face wash, and rinse clean. Pat dry. DO NOT rub your face clean. Be gentle.
After your face is dry, apply the hydrocortisone cream. You can mix the cream with after-shave or even benzoil peroxide to protect your face during the day, and gently massage a thin layer over the entire area you shaved. You should barely be touching your skin when you do this. You want it to absorb naturally, not be rubbing it in.
Once the cream is dry, you may want to apply some moisturizing cream. Again, just smoothly massage it in with minimal rubbing. Avoid the eyes as best you can when applying moisturizer as it can spread the other creams you have on your face and irritate your eyes.
With any luck and a little practice, your face will break out less often if you follow these steps.