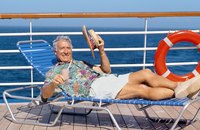 You want to go on a cruise, but don't want to pay the high prices. There are a variety of ways to cruise for free. People who share their knowledge in at-sea lectures, give motivational speeches or who can instruct others in a certain area, such as dance, have a chance to cruise for free and enjoy all the amenities offered. If you have an area of expertise, you may be able to cruise for free.
Become a tour conductor by arranging group travel with a local travel agent. Send invitations to friends; let them know about the group rate you'll receive if you sign up enough people for the cruise. Work with a travel agent to get more people involved.
Pitch your skills to a cruise line. Ask for a spot sharing your knowledge as a lecturer, a motivational speaker, a game host or a teacher. Ask the cruise line if work-vacation agreements are offered in which you travel for free in exchange for providing activities for other cruisers.
Sign up to be a dance instructor if you're a single male. Offer your skills as a host to dance with women who are divorced, widowed or single.