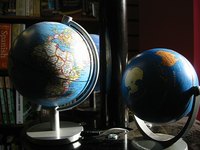 Be it for a vacation or to visit family abroad, an international trip is an exciting prospect for a child. Unfortunately, as a parent making all of the practical travel arrangements, you have to make sure your child's passport is current. According to the U.S. Department of State, you must renew passports every five years if you have any children under the age of 15. Make sure you have everything you need to renew your child's passport with few hassles.
Things You'll Need
Form DS-11
Child's proof of citizenship
Proof of relationship to child
Parents' ID
Passport photos
Renewal fee
Fill out Form DS-11: Application for a U.S. Passport. This is available for download through the U.S. Department of State's passport Web site. Do not sign the application at this point.
Obtain proof of your child's U.S. Citizenship. This can be a previous passport, a certified birth certificate, a consular report of birth abroad, a certification of birth, or a certificate of citizenship. Note you will need to hand over your child's proof of citizenship in order to process her application, but it will be mailed back to you once the process is completed.
Gather proof of your relationship to your child. This can be a birth certificate, foreign birth certificate, consular report of birth abroad or an adoption decree, as long as both parents' names are listed. A court order establishing custody or guardianship is also acceptable.
Photocopy both your and the other parent or guardian's identification. This can be a passport, naturalization certificate, drivers license, or a current government employee or military ID. The copies must show the front and back of your identification and must be made on white 8 ½ x 11 paper. You may only use one side of the paper per copy.
Have two, color, passport-sized photos taken of your child. Your child must be wearing everyday clothes.
Make sure that you have the renewal fee. Renewing a child's passport costs $60 plus an additional $25 execution fee.
Take the application form and documents to your nearest passport acceptance facility or agency. You cannot renew a minor's passport through the mail. Ideally, both parents must be present. If only one parent can attend, the other must fill out and have notarized a Form DS-3035: Statement of Consent. If you have sole custody of your child, present a birth certificate, adoption decree, or a court order listing you as the sole parent or guardian. Otherwise, present a court order giving you permission to travel with your child, a death certificate, or a judicial declaration of incompetence for the absent parent.