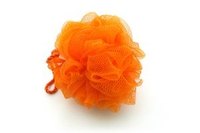 Body pimples can be embarrassing, especially in the summer when wearing tank tops and swimsuits is an everyday occurrence. Summer is especially unforgiving on skin, since excessive sweating on the body can cause pores to become plugged, creating ugly acne that often appears on the underarms, back, groin area and neck. Body pimples are also caused by hormones, especially in teens, that overproduce sebum. Excessive amounts of sebum mix with bacteria, which blocks the pores and causes breakouts. When removing body pimples, the most important aspect is removing the bacterial buildup.
Things You'll Need
Antibacterial body wash or soap
Luffa
Apply a small amount of antibacterial body wash to the luffa while showering. If you are using bar soap, rub the soap onto the luffa to produce a lather.
Rub the luffa over the affected area as well as the rest of your body, creating a lather. The luffa will help exfoliate the skin and the antibacterial body wash or soap will help eliminate the bacteria.
Apply an acne medicated cream to the entire affected area. Use creams with salicylic acid, benzoyl peroxide or sulfur.
See a dermatologist for body acne or cystic pimples that are painful. The doctor can prescribe topical or oral acne medication.