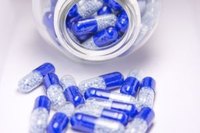 Phentermine is the generic form of the weight loss drug Adipex and is only available with a prescription. Prior to an amendment of the Controlled Substances Act passed in January 2008, consumers could purchase phentermine and other prescription drugs on the Internet. It is now illegal to market phentermine online and the majority of the companies claiming to do so are scams. The FBI urges consumers to avoid purchasing prescription-only medications over the Internet, as there is no sure way to tell what substances those medications actually contain--especially if they are imported from a foreign country. It is possible to buy phentermine, but you must first procure a prescription for the drug. This is sometimes difficult to accomplish.
Ask any friends and family members who are taking phentermine or who have taken it in the past which doctor prescribed the medication. Many doctors are hesitant to prescribe phentermine, and visits to numerous doctors in an attempt to obtain a prescription can get expensive even for those with health coverage. If you know who is willing to prescribe the medication ahead of time, that information may save you time and money.
Visit the doctor recommended to you, or your family physician. Explain your weight-loss goals and let the doctor know that you are having trouble losing weight on your own. A doctor's hesitancy to prescribe a weight-loss aid is usually due to the fact that the medication is not medically necessary and also carries risks to the patient. Let your doctor know that you have thoroughly evaluated the risks and benefits associated with the drug and that your decision to request it is an educated one. If your doctor writes you a prescription, you may simply purchase the phentermine from your local pharmacy.
Contact the American Society of Bariatric Physicians (ASBP) at (303) 779-4834 to request help locating a bariatric doctor in your area if your family doctor refuses to give you a prescription. Bariatric physicians specialize in helping individuals lose weight, and typically include weight-loss aids such as phentermine in their programs. Few insurance companies cover bariatrics, so be prepared to pay out of pocket for your visit. Call ahead of time and ask for information about the different programs your bariatric physician offers. If the doctor does not include phentermine in his programs, do not waste money on a visit. Let the ASBP recommend a different doctor.
Take the prescription for phentermine that you receive from your bariatric physician to your local pharmacy to be filled. If your doctor includes refills, you may return to the pharmacy and purchase the medication as you need it until you have exhausted your number of refills. Since phentermine is not intended to be taken for longer than 12 weeks at a time, you may need to have another consultation with your bariatric doctor after three months to get his approval for you to continue taking the medication.