Microsoft Outlook 2007 has a much more advanced Out Of Office Assistant than the previous versions of Outlook. With its upgrades, it is a very useful tool for automatically notifying other people of the fact that you are away from your desk or out of the office for an extended period, such as a vacation. The 2007 edition of Outlook even gives you the ability to send two different messages, one to people within your organization and one to everyone else.
Step 1
Open Microsoft Outlook 2007 and click "Tools" in the menu bar, then select "Out of Office Assistant."
Step 2
In the Out of Office Assistant box that appears, select "Send Out of Office auto-replies" to turn on the feature.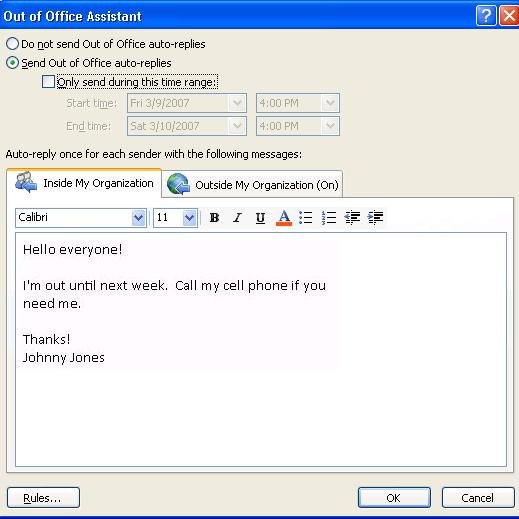 Step 3
Check the box "Only send during this time range:" if you have a pre-determined duration for your away message, and then customize the dates and times. Otherwise, leave this box unchecked for an unspecified duration.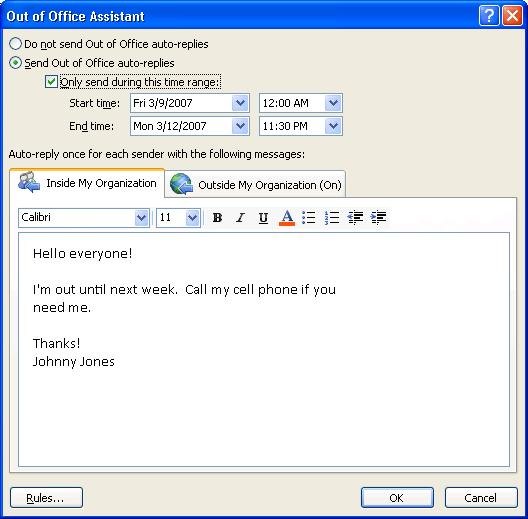 Step 4
In the tab marked "Inside My Organization," type the message you want displayed to those individuals within your internal network. In the tab marked "Outside My Organization," type the message you want returned to anyone else who sends you an email while you are away.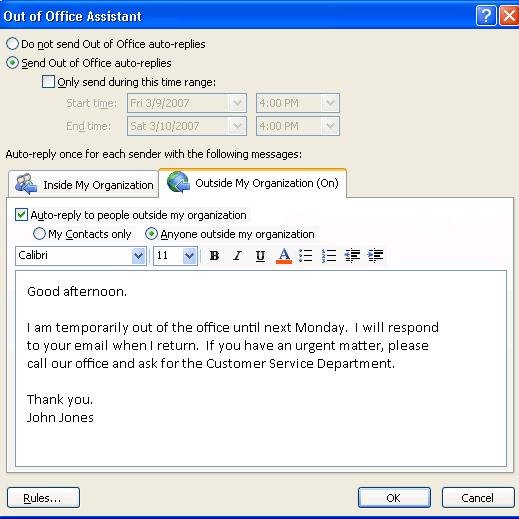 Step 5
Click "OK" at the bottom of the window after you have finished customizing your message settings. You should now see the Out of Office notification in the lower right corner of the Microsoft Outlook window.

Tips & Warnings
If you do not specify a duration for your Out of Office message, it will remain on and active until you manually disable it.
In the "Outside My Organization" tab, if you select the option "Auto-reply to anyone" an email will be sent to every email address that sends one to you first. This may lead to spam companies and email robots learning that your email address is legitimate and active and may eventually increase the amount of junk email that you receive.
Promoted By Zergnet