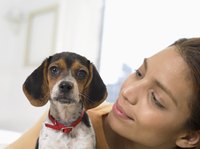 As dogs grow and mature, their dentition changes. Puppies have 28 deciduous or temporary teeth, replacing them with permanent teeth between about 3 and 6 months of age. At maturity, dogs have 42 teeth, including molars, which puppies lack. By examining which teeth are present, you can estimate the age of a young dog with relative accuracy.
Inspecting the Mouth
Some dogs do not like having their mouths touched or manipulated, so exercise caution; if you feel that your dog may bite, have your veterinarian examine his mouth for you. Try to keep your dog calm and reassure him with gentle petting.
Most of your dog's teeth are easy to see without having to open his mouth fully. Gently push the lips back from the teeth and you should be able to see them. You may need to move around your dog -- first standing in front of him, then moving to one side, and then the other -- to observe all of the teeth.
If you must open his mouth, try to encourage your dog to open his mouth by grabbing his upper and lower jaw near the midpoint and pulling them apart gently, but keep your fingers clear in case your pup decides to chomp down.
Basic Layout of the Teeth
Looking at your dog head on, you can see that he has two rows of teeth, arranged in a roughly semicircular pattern. The flat, rectangular teeth at the front of his mouth -- the ones he may show you when he "smiles" -- are his incisors. The conical, recurved teeth immediately adjacent to the incisors are canine teeth. Behind the canine teeth, dogs have several premolars; behind the premolars, mature dogs bear true molars, although young puppies have none.
Tooth Development Schedule
Puppies develop their incisors around 4 to 6 weeks of age, while their canines emerge a week or two later. Premolars appear at 6 weeks of age. Permanent teeth begin erupting after about 12 weeks of age. The permanent incisors develop first, usually by the time the puppy is 3 months old. The canine teeth and premolars become visible at about 4 or 5 months of age, while the molars do not pop through the gum line until dogs are about 6 months old.
Potential Problems
Occasionally, a deciduous tooth lingers, instead of falling out on schedule. This can cause the incoming permanent tooth to develop out of position. This can cause long-term problems, such as abscesses or accelerated decay, brought on by trapped food. Brachycephalic breeds -- short-faced dogs such as pugs and boxers -- are more likely to retain deciduous teeth than many other breeds. Canines are the most frequently retained teeth, but incisors and premolars may be retained in some circumstances.