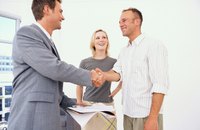 Neglecting to thoroughly check a prospective tenant's credit history could result in big problems for landlords. First impressions can be deceiving, so it's wise to request the credit report of anybody who wants to rent your property, even if a potential renter comes across as honest. The whole process can be completed online.
Ask your potential tenant for her full name and email address. Let her know you plan to request her credit reports from the three major credit bureaus' tenant-screening services. Tell her she will be receiving a series of emails and will need to authorize your requests.
Sign up online for the tenant-screening services offered by Equifax, Experian and TransUnion. You'll need to authenticate your identity by answering questions relating to your credit file.
Request access to your prospective tenant's credit file. The method for doing so varies by bureau but is a fairly straightforward process. Your possible renter will then receive an email asking her to verify her identity and give you access to her reports.
Review your prospective tenant's credit reports once you've received email notification they're ready to view. Each credit bureau will provide you with instructions on how to read the information they provide.