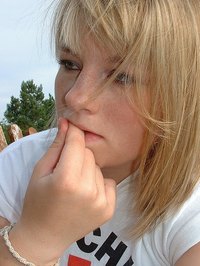 Being nervous is human nature on many issues. We all have a sense of nervousness and anxiety before extremely important events of our lives. This is natural, though unpleasent. In the following article, I hope to really help you learn how to stop being nervous and to calm down.
The first thing you must do is go to an area that is quiet, where you can do some thinking.
Analyze what you are nervous about. Think about what you can do about a certain situation to not be so nervous about it any more. What can you do? Most likely, the answer is nothing. There is not one single thing that will change the situation that is making your nervous. This realization should help bring you calmness. Especially in situations where you are worried about somebody or some event outside of your control.
If you are nervous about a task that must be completed, think about how much you have prepared for this task. Think of all that you have done and learned to be where you are. Think of the training, studying and/or work involved to be where you are at. Reflect back on these things. Understand that it was your effort that will help you in the task ahead, not your worrying.
Get comfortable, relax, have a soothing food to eat, take a bath, and do not think of the event ahead, rather spend the time to calmly reflect on how hard you have worked.
Remember not to worry about tomorrow, because each day has enough problems of its own.