Fish oil supplements are made with the oil processed from the fatty tissues of fish such as salmon or tuna. Fish oil capsules are often consumed as a source of omega fatty acids. According to an August 2002 medical study published in the Journal of Hypertension, individuals with high blood pressure should take fish oil capsules because they may reduce the health risks and symptoms associated with high blood pressure. Learn how to take fish oil capsules with your standard high-blood pressure medicine to enjoy these health benefits.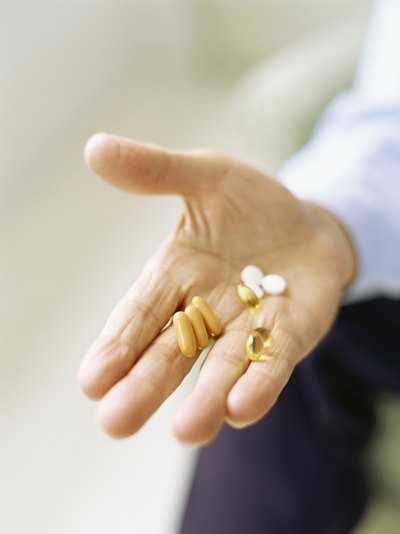 Step 1
Talk to your doctor before incorporating fish oil capsules into your daily regimen. Though fish oil supplements do not interact with high blood pressure medicines, some individuals may need to avoid the supplements for other health reasons. For example, those allergic to seafood and shellfish will react negatively to fish oil. In addition, anyone with high blood pressure should keep their physician informed of dietary changes so that the doctor can continue making informed decisions regarding care.
Step 2
Choose your fish oil supplements. There are dozens of fish oil supplement products on the market, and some are better than others. Look for a product that clearly labels the fish species it uses, rather than simply listing "marine lipids" or other generic terms. Such terms often mean the product is of subpar quality and the manufacturer doesn't know its source. When the product does list a fish species, avoid products made from shark, tilefish, king mackerel and swordfish. These species are typically high in mercury and other contaminants, some of which may have been passed on into the fish oil supplement.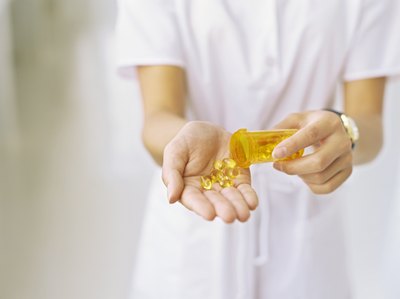 Step 3
Check that the fish oil product is approved by the U.S. Pharmacopeia (see Resources). This independent organization runs a voluntary testing and auditing program that ensures the purity and potency of supplements. Most major vitamin and supplement brands take part in the testing program. Though verification is not necessary, many individuals opt for a tested product to ensure they are getting the best quality for their money.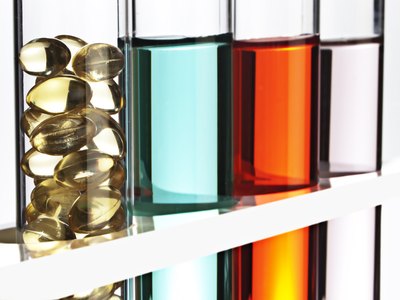 Step 4
Consider using a full-spectrum fish oil product. While most people focus on omega-3 fatty acids, the omega family also includes omega-6 and omega-9 fatty acids. Some fish oil supplements only contain omega-3s, while other supplements contain the full spectrum. Though omega-3 fatty acids demonstrate the most potential for assisting with the health effects of high blood pressure, some individuals choose a full spectrum product as these may perform slightly better in promoting general health as an anti-inflammatory and reducing the risk of heart disease.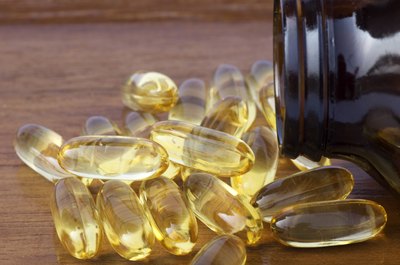 Step 5
Buy the fish oil capsules. These supplements are widely available at most health stores, grocery outlets and natural foods stores. The supplements also come in a variety of quantities, from small bottles with as few as 25 pills, to bulk bottles from retailers such as Costco. Budget-conscious shoppers may find better prices from an online retailer.
Step 6
Take the fish oil supplements. Place one capsule in your mouth and swallow with a liquid such as water or apple juice. Repeat twice daily. Because fish oil capsules do not interact with the effects of high blood pressure medicine, you do not need to take them at a certain time in relation to your standard medication. However, you may find that taking the capsules with your medicine helps to establish a routine and keeps you from accidentally forgetting to take the fish oil supplements.
Step 7
Reevaluate your high blood pressure medicine dosages after taking fish oil. Over time, regular supplementation with fish oil capsules may reduce your blood pressure. You may find that you can adjust your blood pressure medicine dosage lower. The reevaluation can take place at various time points, depending on how your body responds to your medications and the supplement. Your doctor can monitor your progress and suggest appropriate modifications to your medicines.