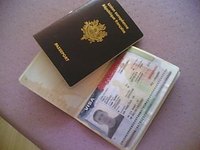 A United States tourist visa allows non-American nationals to travel freely about the country for a period of time. It is, however, one of the most challenging visas to obtain, and not every applicant is guaranteed to receive one. Filing for a U.S. visa in Russia, or in any country for that matter, can take anywhere from several weeks to years depending on your completion of the paperwork, the type of visa you're applying for and your status in relation to the United States. Following these steps may save time in your attempt to apply for one.
Things You'll Need
Nonimmigrant Visa Application Form DS-156
Supplemental Nonimmigrant Visa Application Form DS-157 (if applicable)
Visit the Embassy of the United States of America located in Moscow, St. Petersburg, Vladivostok or Yekaterinburg. Contact information and addresses can be found online (see Resources).
Schedule a required interview with the consular to begin the visa application process. Applicants younger than 13 and older than 80 generally do not require an interview.
Submit to an ink-free digital fingerprint scan during your interview. It is a quick process administered by a consular officer.
Complete the Nonimmigrant Visa Application Form DS-156. You can fill out the application at your interview or download the e-form ahead of time (see Resources). Also complete and submit Supplemental Nonimmigrant Visa Application Form DS-157 if you are a male applicant between the ages of 16 and 45. Individual circumstances might also require you to provide other documentation supporting the purpose of your trip.
Provide a valid passport with a remaining validity of at least 6 months beyond the period of your intended stay in the Unites States. Also included should be a 2-by-2-inch passport photograph that meets the Nonimmigrant Photograph Requirements (see Resources).
Return your complete application and the required travel documents to the embassy or consulate and inquire about the appropriate visa fees. These will vary depending on the type of visa you are processing and if you require expedited or special services.