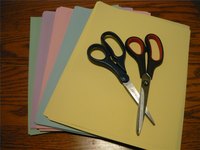 You can make all-occasion cards at home and then sell them. Buy card-making supplies at most local craft stores or in bulk online. Make cards to celebrate holidays, birthdays, weddings, anniversaries, births, changes in seasons, graduations and more. Provided they are made well, you can mail these creations just like store-bought cards.
Things You'll Need
Paper supplies or card kits
Cutting mat
Scissors or craft knife
Rubber stamps
Adhesives
Punch-out pieces
Decorative items, like glitter and beads
Gather paper supplies. For easy card-making, buy card kits---pieces of cardstock that have already been folded---at a craft store. Keep scraps for collages or other card projects.
Use a cutting mat and scissors or a craft knife to cut papers for layering or photographs for decoration. Use colored paper to make balloon shapes for a birthday card. Cut out small colored ornaments to glue onto a green paper tree for a Christmas card. Border a photograph of the kids carving last year's pumpkins with orange and black construction paper for this year's Halloween greeting card.

Purchase rubber stamps, which feature an array of best wishes and designs. These will give handmade cards a professional appearance.
Use tape, glue sticks or other adhesive materials to attach photos, sequins or decorative punch-out pieces to cards. Punch-out pieces come in basic shapes and floral or leaf-shaped designs. They can be used on the corners or the border of cards. Long-reach punches, which enable crafters to punch pieces farther into a card, can also be purchased.
MakingGreetingCards.com, a website that offers tips on making all-occasion cards, suggests adding "sparkle or 3D effect to your handmade greeting cards," with items such as alphabet or other beads, metallic threads, ribbons, glitter, stickers or buttons.

Add a personal "Made by" logo to the back of each card that includes your real name or the name of your card business.
Some software programs, including Microsoft Publisher, enable users to use templates to make printable all-occasion cards.
If you do not have access to a software program that offers card-making templates, take a photo with a digital camera, upload it to the computer, and add a quote or short phrase to quickly make a card. Be sure to use no more than half a page.
On the other half of the paper, type or write a personal message or the answer to a riddle typed on the front.