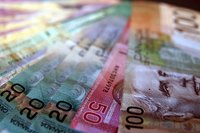 You may be going abroad or wish to figure out the price of goods and services in your or another currency. Whatever your reason, basic currency conversion has become an incredibly simple task. In this instance, you are attempting to convert a quantity of British pounds into Canadian dollars. With the help of the Internet, finding the answer to your question takes but a few short seconds.
Find a website with a currency converter, such as that located at Oanda.com (see References). Make sure the website uses the latest exchange rates for the most accurate results.
Select "British Pounds" or "GBP" from the menu. Input the amount of pounds you wish to convert.
Select "Canadian Dollars" or "CAD" as your target currency.
Press the "Convert" button. The website will display the conversion where the target currency is denoted. Note that many conversion websites will automatically convert the currency once you have selected the target currency.