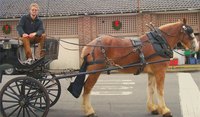 Taking a carriage tour is one to the best ways to enjoy the splendor of Charleston, South Carolina. Each residential day tour covers about 2.5 miles and 30 blocks of the Charleston historic district, takes about an hour and is narrated by a licensed tour guide.
There are five carriage companies: Classic Carriage, Carolina Polo and Carriage, Olde Towne, Old South and Palmento. Each company offers group and private carriage tours. Each has its own website, with the ability to prebook and purchase tickets. However, be advised that when you purchase a carriage tour ticket online, you are paying full price, and sometimes a processing fee as well. Also, if upon arrival the company cannot accommodate you (closed or sold out), you will have to go through the aggravation of getting a refund. So, for most visitors, there is no advantage to buying tickets in advance.You can buy discounted tickets at the Charleston Visitor Center, 375 Meeting St., but the staff are unfamiliar with individual tour guides. Negotiate directly with ticket sellers in the City Market (where the carriages depart and return).
Every carriage tour guide is licensed by the city. Testing for a tour guide license is rigorous; each candidate must take both written and oral examinations. Candidates are tested on Charleston history, architecture and botany, and licenses must be renewed every 3 years. As they gain experience, many tour guides develop areas of specialization, such as antebellum architecture or the Reconstruction era. So, a carriage tour is not just "a buggy ride"; your driver is a highly tested, licensed city historian.
Carriages depart and return to the City Market area in downtown Charleston. This is a commercial district with shops, restaurants and an open air market. The carriage companies' barns are about two blocks away.
Things You'll Need
Cash, credit or debit card
Comfortable walking shoes
Go to the City Market in downtown Charleston.
When you enter the Market area, you'll see empty carriages lined up at the intersection of North Market and Anson streets. In the trade, this area is called "the Stand," but it operates very differently from a taxi stand.
These are advertising carriages, also called "decoys." Each carriage company pays the city a substantial fee for the right to place a carriage on these streets and sell tickets; they are essentially rolling ticket offices. There are two sales spots on Market Street, and the rest are on Anson St., forming an L around the corner.
Most of the pedestrian traffic passes by on Market Street, so to keep the sales situation fair, the carriages rotate every 15 minutes.The first carriage in line pulls out, drives around the block, goes to the end of the line, and the others move up. This rotation is repeated from from 9 a.m. to 5 p.m. (4 p.m. in the winter). Therefore, neither the first carriage in line nor any of the others are waiting to go out on tour.
Ticket sellers, called hackers, stand by their company's carriage and offer tours to passersby. They may only sell from the tip of the animal's nose to the back of the carriage. When the carriage rotates, the hackers must accompany the carriage to its next location. Decoy drivers are sometimes also hackers. When you pass by, hackers can sometimes be aggressive. A polite "no, thank you" will suffice until you have selected a company.

Select a company, and buy your ticket.
It is to your advantage to talk to the hackers at two or more companies, rather than buy from the first one you see; you can always come back.
Criteria for selecting a company may include price and tour guide.
Tickets are usually $20 per person, but can be negotiated, especially for groups of six or more; generally, the larger the group, the deeper the discount. However, be aware that hackers are not authorized to negotiate lower than a certain amount. If you are ready to buy a ticket but perhaps want to take your tour later, you can also purchase an "open" ticket with no set time of departure, which can presented at any time during operating hours.
Aside from ticket price, be sure to ask the hacker about your driver's knowledge and experience, and indicate your topic of interest. If you feel you are not getting the information you ask for, go to another company and ask the same questions. Hackers can suggest certain tour guides and let you know if a recommended guide is on tour and not available until a certain time. If you want that tour guide, you have the option to buy an open ticket, come back at the time the hacker suggests and most likely have a more satisfying experience.
At this time, you should also make seating requests for special circumstances. If you are hard of hearing, you should request the first or second seat. If you have small children who can become restless, you may wish to request the back seat to avoid disrupting others, especially if you have a "lap" child. Seating assignments are made via radio as you make your purchase.
Be aware that all carriages are assigned a tour route before leaving the Market area. The process takes place at a small building called "the Gate," at the intersection of Church and North Market Streets. A city Tourism Commission official selects a tour route for the driver using a lottery system. Colored balls are placed in a bingo machine; the color of the ball that pops up identifies the assigned tour route. A green medallion called a "tag" is hooked to the back of the carriage, and it may then depart from the Market to go on its tour route. This process is done for traffic control reasons, and also because only 20 carriages can be out on the streets of Charleston at a time. If all 20 tags have been issued, there may be a line of carriages waiting for the others to some back; this is called a "tag wait." Tag waits can be lengthy (see Warnings).
No hacker can "guarantee" you a specific tour route. If you are determined to see specific sites in the city and do not want to take the risk of not getting a desired tour route, you may have to get to them through other means. Carriages can never deviate from their designated routes under penalty of a hefty fine.

Go to your carriage.
After you purchase your ticket, you will be given a boarding pass with time of departure written on it and will be directed to a loading area. The hacker will direct you where to go. Follow their instructions to the letter; your carriage will board and depart in no more than 15 minutes (often less), and you need to go straight to your departure point without delay.

Follow loading instructions.
When you arrive at your carriage, check in with the loader. He will ask you to wait until your name is called. Companies board differently; some start at the back, others at the front. Be patient; special needs passengers may be boarded first and can take longer to get on the carriage.
Your carriage will then proceed to the gate, where you are assigned your tour route, and the adventure begins.