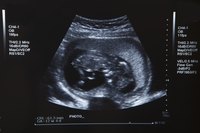 Sonographers use high-frequency ultrasound waves to create images of tissues within the body. Also known as ultrasound technicians or ultrasound technologists, sonographers ordinarily undergo a minimum two-year training program in basic sciences, human anatomy and physiology, and the theory and practice of ultrasound imaging. Health professionals such as radiologic technologists and registered nurses undergo similar training in their own fields, so it's possible for a registered nurse to become certified for ultrasound in just one year.
Inform your employer that you wish to become certified, and ask what resources they have available to help you. Some have accredited training programs in-house. Others will provide assistance through flexible scheduling, tuition reimbursement or similar initiatives.
Apply to an accredited sonography training program geared toward practicing health care professionals. You'll typically need to include copies of your license or certification, and sometimes transcripts of your earlier professional training. Some schools require full-time attendance during days or evenings. Others are more sensitive to the needs of working professionals, offering intensive instruction on a part-time basis. Take this into consideration when choosing a program.
Complete the one-year program of classroom instruction and hands-on clinical training. Once you've passed your final examinations and have successfully graduated from the program, download and complete an application for certification from the American Registry of Radiologic Technologists or the American Registry for Diagnostic Medical Sonography.
Submit your application form with the necessary fees, along with transcripts or other documentation as requested to establish your eligibility. Select a testing center and date for your certification exam.
Take advantage of the written and online exam-prep materials available through the ARRT, ARDMS and other sources while you're awaiting your testing date. This will help keep the material fresh in your mind, and help you remain confident as the date approaches.
Write and pass the primary certification examination. If successful, you'll be credentialed as a certified ultrasound technologist.