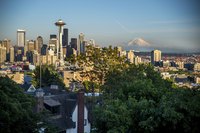 Famous for cold, damp weather, rainy Seattle actually offers travelers a pleasant respite in the summer months. With average highs in the mid-70s Fahrenheit and lows in the 50s, Seattle in the summer offers plenty of sunshine with infrequent showers and without the balmy extremes found in cities like New York and Los Angeles. Best of all, Seattle comes alive in the summer months, with travelers and locals flocking to street-side cafes and outdoor events to soak up the sun. Dressing for Seattle in the summer requires some preparation for unpredictable weather, but mostly a focus on comfort and casual fashion.
Dress in natural fabrics. While popular sportswear brands like North Face and Patagonia put synthetics in style in the city's winter months, natural fabrics like cotton and linen will keep you cool and dry in the summer. These fabrics breathe better and dry more quickly if you're caught in a sudden burst of fog or light rain.
Dress in layers. Seattle is a many layered experience and -- even in the relatively placid summer months -- you'll want to be ready for short rain showers, cold winds, fog and sometimes scorching sun.
Choose breezy bottoms. Most Seattle residents don shorts and sundresses in the summer months. If you prefer long pants, select a loose fitting pair to keep you cool in the sun. Long pants can be a good choice for overcast mornings and chilly nights.
Balance out your wardrobe with your top. T-shirts and light tops are perfectly acceptable for Seattle in the summer, but you may want to bring along a light sweater or overcoat for when the mercury drops in the early morning or evening.
Wear comfortable shoes. Seattle is very much a walking city, especially in the summer when good weather draws most residents out into the street. A pair of comfortable shoes or even sandals will provide all the support you need for long walks along the waterfront. If choosing sandals, select a supportive pair that will stay on your feet even as you walk up or down the city's hills.
Accessorize for unpredictable weather. With 20-degree differences in highs and lows, Seattle is best enjoyed with the proper equipment. Bring along everything from sunglasses and a hat to a light scarf and an umbrella every time you step out the door for a day on the town.