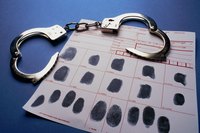 Checking an employee's criminal record can be tricky. Employers must ensure they are following all state and federal laws regarding this particular background check and not violating any of their employees' rights. Conducting a check on an employee's criminal records should also be done for a reason such as ensuring the safety of other employees, customers and the business. Certain job duties also should prompt employers to do a background check on the people who will be performing those jobs. These include employees who have access to money, valuables or master keys; carry firearms; drive vehicles; work with drugs; or work extensively with the public. Some states require the criminal background checks on people who perform these roles as well.
Things You'll Need
Signed consent forms
Employment lawyer
Professional background screener
Get a signed consent form from each employee stating that he agrees to having a background check conducted, including a criminal records check, within the boundaries of the law. Some states require that this consent is done before every check, not just signed at the start of employment.
Consult with a lawyer specializing in employment rights about the specific laws in your state regarding checks on employees' criminal records as each state's laws differ on employee privacy rights. You should also get guidance on what you can do legally under federal law to make sure you comply with both. If you have 15 or more employees, you are also subject to federal anti-discrimination laws that prohibit you from discriminating against employees based on their race, color, national origin, religion or gender. Doing a criminal background check then negatively acting on the results by demoting or terminating the employee protected under these laws could put you in violation of the employee's rights.
Hire a private screening firm to do the check for you and make sure you stay compliant with federal and state regulations. With the help of legal counsel, you can also monitor the company to ensure it is conducting the checks legally. The National Association of Professional Background Screeners offers a directory of accredited companies.
Do your own leg work. There is no law that prevents employers from asking about conviction records, which enables you to ask your employee directly if she has a criminal background. To follow up on what she says, you can check with several agencies for criminal background information.
State criminal record repositories aggregate information from criminal justice agencies, including courthouses. States differ as to whether the public is able to search their databases though some allow employers or third parties conducting the search for them to access their records for a fee.
If you're unable to get information for a repository, you can check with courthouses which keep records about criminal charges and convictions. Typically, you have to go to the courthouse to pick up the records but some offer them online. The federal courts' records are also open to the public and are searchable for federal offenses.
Some state police and corrections agencies allow the public to go through their records for complaints, investigations, arrests, indictments.. Each agency differs as to who may search the records and how.
The public can also search state and federal sex offender registries which list individuals with convictions and outstanding warrants.
Employers regulated by the federal government, such as those in banking, health care, securities and private security are able to access the Federal Bureau of Investigation's Interstate Identification Index, which compiles records from repositories and federal and international criminal justice agencies.
Your state's Department of Motor Vehicles also keeps records of driving-related convictions and may allow employers to search its database.