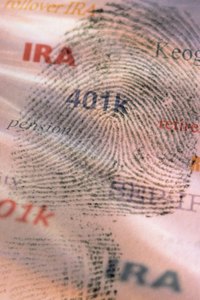 Any time that you leave an employer, you must decide what to do with the money that is in your 401(k) plan. Although many people get confused at what to do with this money, there are actually several very simple solutions.
Leave the money in the old employer's 401(k). Although this is not the optimal solution, there is nothing wrong with doing this. Note that some employers have time limits that will force you to move it, so be sure to find out if these limits exist for you and what they are. You also need to watch your account regularly. If the previous employer switches funds or investment companies, it may switch all employees over to a stable value money fund and have them select new funds. If you aren't aware of this, your money will sit in the stable option and get a very low return until you reallocate it.
Roll the money over into a new employer's account. Once you are eligible for your new employer's 401(k) plan, you can simply roll the money from the old plan into the new plan. This is called a 401(k) rollover.
Withdraw the money from the 401(k). This is not an option that should be take lightly because you will actually lose much of your money. However, you are allowed to withdraw the money if you would like. Doing so will cause you to pay a 10 percent early withdrawal fee, if you are under retirement age and it will be counted as income.
Do a 401(k) IRA rollover, by rolling the money over into an Individual Retirement Account. This is the best option. IRAs can be opened at any investment company and are very easy to do. Do not withdraw the money or have the old 401(k) company send you a check. The company that you open the IRA with will have it automatically transferred. If you think you may want to eventually transfer the money into a future employer's 401(k), then you want to use something called a "rollover IRA".