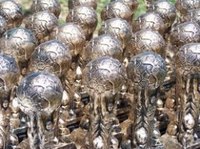 Have you been wondering if silver is a good investment? If you want to buy silver then you should know how to trade silver stocks online. It is easy to do, easy to monitor and easy to sell silver stocks, funds and other silver products online. When the economy is low, precious metals such as gold and silver go up in value. They also increase in value over time. If you are able to hold onto your silver for 10 years, you will definitely see a significant change in value.
For quick cash you can learn to trade mining companies such as gold and silver mines. Their stocks fluctuate to money to your portfolio.
Open Account
Open an online stock trading account. It is easy to do and there are plenty to choose from. You will want to fund your account with at least $2,000 if you are able to because you want to have a margin account. A margin account will give you more flexibility with your account even if you do not use the margin.
Avoid a cash account if possible because you will have to wait three days for a settlement of each transaction. Which means that your funds are held up for three days every time you make a trade.
Look below in the Resources section if you want to make money on trading silver stocks.
Practice
Use the practice account on your new stock brokerage account to practice trading stocks. You can learn a lot about trading stocks by buying and selling them in a practice account.
You should learn how to properly execute a trade by using a market, limit or stop order.
Research
Research the stocks that you are planning on trading. There should be a convenient research and quote tool on your online stock trading account. You will want to look at the charts of the stocks you are interested in. Most good brokerage companies will tell you what all of the lower and upper indicators mean such as the Stochastics, MACD, volume and oscillators.
Always research each stock thoroughly before you buy or sell.
Silver Stocks
Research and buy silver stocks through your stock trading account.
Find an online mentor or website that gives out daily stock tips, it will help you tremendously.
You can also use stock trading software to give you all of the tips that you need to trade effectively. Some stock trading software will tell you exactly when to buy or sell stocks or when to sell short and buy to cover.
Precious Metal Mining Stocks
Buy and sell precious metal mining stocks. Precious metal mining stocks fluctuate every day giving you an opportunity to buy in the gap and earn money every day.
ETFs
Buy exchange-traded funds that are heavy in silver or silver mines. Research them on your stock trading account.
Knowing how to trade silver stocks online will help you to make extra cash in a bad economy.
Mutual Funds
Buy mutual funds that are heavy in silver, gold or precious metal mining. Mutual funds are a very safe way to invest because your money is divided into many different stocks. This diversification will help protect your stock portfolio.
If you want more information on how to trade silver stocks online please look below in the Resources section.