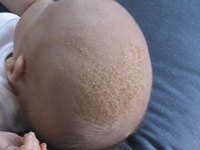 A baby's skin is very soft and sensitive. Unfortunately, all babies develop some kind of rash at one time or another. Most rashes are neither harmful nor contagious, and they will go away on their own. Other rashes are more serious and require a doctor's care. In order to diagnose a baby's rash, you should consider the location of the rash and how it looks. You should also pay attention to any itching, spreading or signs of infection.
Things You'll Need
Diaper cream
Soft brush
Baby oil
Cortisone cream
Socks
Mittens
Look for diaper rash on your baby's bottom and genital area during diaper changes. Check for redness, bumps and other irritation. Diaper rash is unavoidable because the baby's sensitive skin is closed up in the diaper with bacteria and ammonia from feces and urine.
Try to prevent diaper rash by changing your baby as soon as the diaper is soiled, by keeping the diaper area as dry as possible and by letting your baby go without a diaper as often as you can.
Use diaper creams when a rash appears, but avoid using powder, corn starch and other lotions. Rinse cloth diapers very well to remove excess soap, and do not use fabric softeners or dryer sheets on your baby's cloth diapers.
Contact your doctor if a diaper rash doesn't improve, or if the rash is very red with small bumps on the edges. This could be a yeast infection that requires anti-fungal medication.
Keep an eye on your baby's face, neck, chest and armpits, especially if you live in very hot or humid weather. Heat rash or prickly heat looks like small red dots or small blisters. Overdressing a baby can also cause heat rash. Keep your baby's room as cool as possible, and do not dress your baby too warmly or cover her with too many blankets. Heat rash usually goes away on its own if the baby's skin is kept cool and dry.
Check your baby's scalp for seborrhoeic dermatitis, or cradle cap. This is a common rash in babies younger than three months, and it looks scaly, bumpy, red or oily. Sometimes cradle cap also appears behind the ears, in the armpits and in the diaper area. This is a harmless rash that doesn't bother the baby, and it usually goes away on its own. You can remove the scales by rubbing them gently with a soft hairbrush or by dabbing them with baby oil.
Be aware that small red splotches or tiny white or yellow blisters on a newborn baby's body are a common rash called erythema toxicum. This harmless rash usually appears at birth or when the baby is a few days old, and it clears up on its own within a week or two.
Take your baby to the doctor for a red, scaly, itchy rash that appears on the face, neck, chest or back. This rash could be eczema, and it requires cortisone cream and possible dietary changes to treat. If your baby has eczema, keep the fingernails cut short and cover your baby's hands with socks or mittens at night to prevent scratching. If the baby scratches too much and breaks the skin, a serious bacterial infection could develop.