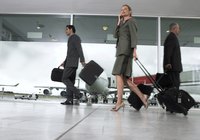 A non-see-through pouch is usually all it takes to get a store of tampons, sanitary pads or a menstrual cup through airport security discreetly. Packing a sufficient supply is particularly important if you're picky about the specific product or brand you use; for example, tampons are hard to come by in Asia. However, any feminine sprays, creams or related medications you want to carry will be subject to the Transportation Security Administration's regulations for liquids and medications.
Pack Light and Small
If you can get comfortable with the idea of reusable feminine hygiene products, such as menstrual sponges or menstrual cups, these save you some space in your luggage -- especially on long trips. They also sidestep the awkward issue of disposing of a used sanitary napkin or tampon. Packing a few zip-top plastic bags gives you a way to discreetly carry the used items until you can dispose of them.
Other Feminine Products
If you pack a feminine spray, cream or other liquid cleanser, it's subject to the same regulations as any other liquids in your luggage. The bottle should be 3.4 ounces or less, and fit into a quart-size plastic bag along with any other liquids you carry. Larger bottles and all aerosols must be transported in your checked baggage. You can carry on larger quantities of medication, including medicated creams, but they may be subject to additional screening; pack them in the original container and bring a copy of your prescription, if possible.