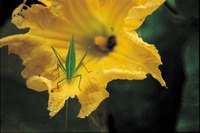 Due to the declining population of honeybees, some plants are having difficulty with pollination, particularly in small home gardens. If you find that your pumpkin plant is not producing fruit, pollinate by hand. Although it's not a perfect process, it typically does the trick.
Identify which flowers are male and which are female. Males tend to be longer with thin stems, while females grow closer to the main stem of the plant and have a small, immature pumpkin under them.
Wait for the female flower to open. Pollinate as early in the day as possible. You can usually tell the night before if the flower is about to open.
Remove the stamen from the middle of the male flower, if some small specks of dust come off, then it is ready to pollinate.
Rub the stamen on all parts of the inside of the female flower. If you like, you can leave the stamen inside the flower. The hand pollination process is complete, and the results can be seen in a couple of days if the fruit starts to grow, which indicates a success.