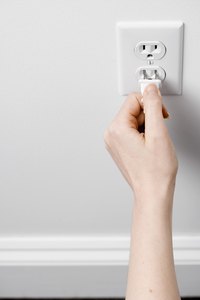 If you are living in an apartment, you may not have the luxury of triple-pane windows or the flexibility to upgrade to an energy-efficient heating or air conditioning unit. Apartments often are poorly insulated, which results in high electric bills, especially during the height of summer and of winter when running the AC or heater becomes inevitable. Nevertheless, there are things tenants can do save on their electric bills.
Turn off your lights when you're not using them.
Wear an extra layer of clothes in winter instead of turning up the heat.
Heat the rooms you use, and set the thermostat lower for the rest of the apartment. Use portable, small heaters in winter instead of the central heater. These provide significant savings on your electric bill because they consume much less energy.
Use room fans in summer to help move the air around and keep the apartment feeling cooler. Do not use the air conditioning unit to cool rooms you're not using, and be sure to turn set the thermostat a few degrees higher when you're not home.
Close the air-conditioning or heating vents at night except in the bedrooms. This will push more comfortable air to the bedrooms and heat or cool them faster.
Use the blinds or shades in the summer to keep out the sun. In winter, open the blinds during the day to let the sun's heat in; close them at night to keep the heat in.
Ask your landlord or apartment manager to attach weather strips to the doors and windows to reduce air leaks, increase the energy efficiency and save on your electric bill.