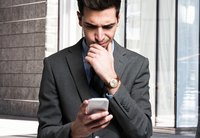 When you receive a rude or obnoxious email from a client, co-worker or other business associate, your first instinct may be to respond with your own tirade or not answer at all. Schools of thought differ on the appropriateness of not answering, for non-response, too, can be viewed as rude. However, if a response is warranted, defer to common-sense tactics and your company's email protocol. In general, use your corporate email account only for business correspondence and keep any offending personal communications outside the workplace.
Observe Basic Business Etiquette
Personal email concierge company Email Tray advises sticking to basic rules of business deportment in dealing with emails, whether rude or not. In addition to using complete sentences rather than half-finished thoughts, refrain from using all caps, exclamation points or all lower case letters. Avoid informality or sarcasm, which can be easily misinterpreted. As much as a rude email might frustrate or anger you, don't take it out on the sender by harming him: Do not forward corporate communications to anyone outside of your company, and abide by your company's email policy when replying.
Vent -- and Wait
According to the BBC, Travis Bradberry of corporate training consultancy TalentSmart says you can have it both ways: you can respond to a rude email in kind, and you can take the high road. He suggests doing as Abraham Lincoln did when writing scathing letters to political colleagues. Write a no-holds-barred response -- complete with expletives, if need be -- then come back to it after you've cooled down. In the second round, remove the inflammatory language and focus on the key points of your message. Send only the pared-down, level-headed version.
Be BIFF
Most hostile emails can be ignored, notes workplace consultancy The High Conflict Institute, because responding to these emails can give them unwarranted power. However, hostile emails that are also inaccurate need to be corrected with statements of fact. The Institute recommends taking the BIFF approach in your response: be brief, to avoid supplying further material for the person to react to; be informative, focusing on accurate facts rather than the person's inaccurate statements; be friendly, to improve your chances of eliciting a friendly or neutral response and ending the conflict; and be firm, by making your position clear and not subject to debate.
Avoid Blunders
A rude email at work may make your blood boil, but you don't want to be guilty of the same offense. In crafting a response to a rude email, check that you have fully understood the content of the mail rather than replying with a remark that reveals that you didn't read the message. Avoid making people take tedious steps to reach you, such as filling out online security challenge-tests used to differentiate spam-bots from human users. Furthermore, especially if a rude email originated in-house, keep your message in sync with the culture of the company, by matching your style and tone to those norms.