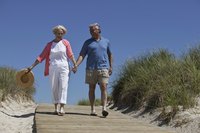 Retirement planning calculators help you calculate how much savings you'll need to provide income during your retirement. They also help you figure how much you'll need to add to your savings each year to reach your income goal. There are free retirement planning calculators online. They all are fairly similar, though some let you input more variables than others. The results will only be as useful as the information you put in, of course. Calculate savings, investment and retirement income that suits your needs best.
Input your age and the age at which you plan to retire. The longer before retirement, the more compound interest can help your savings grow. You may also want to calculate an earlier retirement date to see if you could retire early, either because you want to or because of ill health.
Tell the retirement calculator how long you want your money to last after retirement. Average life expectancy is one way to estimate this, but remember, there's a good chance you'll live longer than average, and you don't want to run out of money. Better to be safe and input an age that you think is the maximum you'll live to.
Input how much you think you can add to your retirement savings each year while you're working. A good retirement calculator also lets you input what rate of return you expect to get on your savings. And don't forget to plan for inflation. In 10 or 20 years, due to inflation alone you may be able to save more, but you'll need more savings to retire too. Check to see if the retirement calculator uses a fixed inflation rate, if you can input your own estimated inflation rate and whether results are calculated in actual dollars or inflation-adjusted dollars. Remember to allow for taxes.
Tell the retirement planning calculator how much you want to spend each year after retirement. This may be part of the initial calculations, or there may be a separate step. When estimating the amount, you may be able to input retirement money from other sources like Social Security, or you may have to subtract that on your own. Expenses may be lower after retirement, since you won't be commuting to work, supporting children and buying work clothes, but you may also want to spend more on travel or need to spend more on health care.
Input the return you expect on your retirement savings. Again, make sure the retirement calculator takes inflation into consideration. Also, does the calculator assume you want to take money from your principal, so you gradually spend down all your money? If you want to have money to bequeath in your will, or if you don't like the idea of using up all your savings in old age, you may want to find a retirement calculator that lets you specify an amount of savings that you don't want to spend.
If you're not sure what rate of return is reasonable to predict, some retirement calculators let you see how your savings would have grown, or been reduced to nothing, in different years.