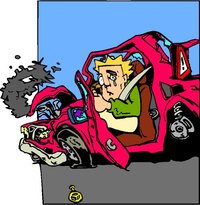 Few business opportunities offer the ability to capitalize on the failure of consumer products rather than the production of them. This business model makes starting a junk yard an attractive opportunity for many investors and entrepreneurs. According to the Department of Transportation, there are more than 250 million registered vehicles in the United States. These vehicles will all eventually break down or stop running, only to be replaced by more cars and trucks. This continuing supply of disabled and inoperable vehicles, combined with discarded consumer products, provides a steady stream of inventory and income for junk yards.
Things You'll Need
Property
License or permits
Equipment such as a forklift or tractor
Investigate regulations and licensing before purchasing any property for a junk yard. Most cities and counties closely regulate zoning for junk yards, which may dictate where your junk yard can be located. There may also be regulations concerning hazardous material storage for items such as oil, radiator fluid, batteries, refrigerants, power steering fluid and gasoline. Potential licensing issues should also be investigated with local tax and business regulators.
Locate, purchase and prepare property for your new junk yard. Suitable property should provide enough room for an administration building and storage facilities and should accommodate anticipated growth. Security fencing should be installed to encompass the entire property.
Obtain liability and business insurance to cover theft, fire and injury for your new junk yard. Speak with a knowledgeable insurance agent to determine the correct coverages to adequately insure your new business.
Set up office and administration to run the acquisition of inventory and management of the overall business. The number of employees necessary will depend on the size of the junk yard, hours you plan to be open and the services offered. At minimum, plan on having someone in the office and another person managing the inventory and lot during business hours. If you plan to offer recycling or salvage operations, these services will require additional employees.
Market your new junk yard business to the public and any businesses that may have an interest in your services. An ad in the phone book or in the local newspaper will typically be enough marketing for the general public. Brochures, business cards or fliers should be printed to hand out to local auto repair shops, appliance stores, apartment managers, insurance agents, wrecker drivers and auto parts stores. These businesses can offer a great source of direct and referral business.