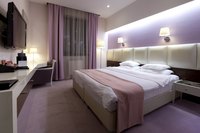 The boutique hotel business was created to address the needs of travelers tired of sleeping in the same cookie-cutter room with the same furnishings in every city. Boutique hotels offer unique, personalized environments with an emphasis on comfort and service, and this small business idea has become big commerce. Opening a boutique hotel can be pricey, but the expanding industry makes it a gamble worth considering.
Things You'll Need
Financing
Location
Creative concept
Luxury furnishings
Friendly staff
Competitive amenities
Arrange financing. Because of their upscale nature, boutique hotels require a huge investment, probably out of reach for most small investors. Consider a limited partnership with an investment group. Boutique hotels are an attractive prospect for investment. They tend to attract an affluent clientele similar to that of luxury hotels, but without the big overhead. So once the initial investment is made, the return is significantly higher than other hotel property types.
Choose a location. Boutique hotels first appeared in the 1980s in trendy urban areas like New York and London. Now they are in nearly every metropolitan and resort area, and are becoming increasingly prevalent in the suburbs. Boutique hotels are usually designed to reflect and blend into the surroundings organically, taking advantage of what the area has to offer. The options are open for location, but if money is an issue, consider a remote, scenic location, a suburban location, or renovate an old city hotel in a transitional neighborhood where property values are rising.
Create a style. Boutique hotels are all about creative style. Your location should determine the style and decor of the hotel and the rooms. Many boutique hotel owners follow a singular theme with unique rooms. The Adobe Grand Villas in Sedona, Arizona, for example, offers apartment-sized rooms with outstanding luxury fitted into rough-hewn lodge type construction using timber and natural stone for an authentic feel. Rooms are cozy and homelike, each one unique. In the Wagon Wheel Villa, the bed resembles a Conestoga wagon, while the Whispering Pines Villa is a collection of furniture created from free-form, sun-bleached desert woods.
Consider service and amenities. No matter what the style, every boutique hotel specializes in service. The staff-to-guest ratio is high and the service is expected to be highly personal and cater to every possible need. This will make payroll higher than average, but will pay off in customer loyalty. This is an area where traditional hotel chains struggle.
Provide luxury. If you want your boutique hotel to be successful, invest in fine furnishings, ultra-comfortable beds, fine linens, and quality artwork. Attention to detail is crucial. Your guests will notice good quality toiletries, extra pillows and comfortable chairs.
Address the competition. Regardless of comfort, luxury and style, your hotel must compete on a practical level. That means high-speed wireless Internet, flat-screen TVs, and a variety of amenities your guests will expect at any quality hotel, like a gym, spa services, and excellent food. Then the boutique hotel must go the extra mile, offering something unique. For instance, the Magnolia Hotels boutique chain caters to business travelers on a full schedule by providing a complimentary breakfast buffet, happy hour with complimentary wine and beer, and a milk and cookie buffet for late-night snackers.