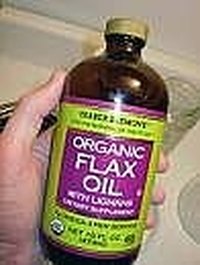 How to Give a Dog or Cat Flaxseed Oil. Due to the heavy processing of commercial dog and cat foods--most foods that list Omega-3 as an ingredient do not contain a sufficient amount--and pets benefit from this immune-boosting essential fatty acid (EFA) in their system. Many manufacturers deliberately leave out Omega-3 because it tends to spoil quickly, although they do include a high amount of the EFA, Omega-6. The problem is--both need to be present in proper balance in order to provide any health benefits for your pet. A dull coat, scratching and excessive shedding could likely mean your pet is deficient in Omega-3. Here is how to get Omega-3 back in their diet--with flaxseed oil--the richest source.
Purchase flaxseed oil in either liquid form or as a capsule that you can break open. You can find flaxseed at grocery, health food, vitamin, discount stores such as Target and wholesale clubs like Costco. You can also purchase organic flaxseed oil. Trader Joe's markets carry large bottles of organic flaxseed oil preserved with Vitamin E for a good price.
Give your pet 1 teaspoon of flaxseed oil for every 25 pounds of body weight. A 65-pound Golden Retriever, for instance, would get about 2 1/2 teaspoons a day. A 12-lb. cat would get 1 teaspoon a day. You can give it all at one meal or split it up.
Pour it on top of your pet's regular food; they don't seem to notice any unusual taste. If you feed dry food, you may want to mix it in with some canned food, broth, or perhaps gravy made especially for dogs or cats. Also, veterinarians recommend mixing a dollop of canned pumpkin in with the food, anyway, for fiber and firmer stools. That's something else you might mix the flaxseed oil in.