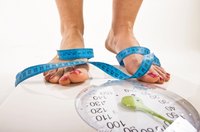 Losing weight can be tricky at times. However, besides starving yourself, there are ways to lose weight fast. This article will share some simple steps you can take to lose those extra pounds fast.
Things You'll Need
How much do you eat? Keep track of what you eat and how often. If you can, also keep track of how many calories you are taking in each day. Carrying a little notebook can be helpful so you don't forget anything you eat during the day. Do this for a full week if you can. If you know approximately how many calories for each item you eat, write that down too. If you don't know the calorie count, you can do that later.
Look at your diet and decide what you want to cut out. Also, think about a replacement for that particular food item. For example, salad dressing can be fattening. However, there are lite dressings that can be a substitute. Cutting down or reducing your intake on candies and sweets can also help you lose weight faster. If you drink soda, replace that with water or reduce your daily intake.
Think lean. Choose lean meats to eat. Chicken and pork is lean. Also, fish can also be beneficial for your diet and help you lose weight faster

Easy on the side dishes. The side dishes can be so yummy, but can also be high in calories. Instead of greasy French fries, choose a healthier salad or vegetables.
Begin you day with a healthy breakfast. Doughnuts, bacon, and eggs, can also be high in calories. Instead, choose healthier choices like fruit, high-fiber cereals, yogurts, or oatmeal.
Lower your portion sizes. American is all about huge. Don't feel like you have to finish your entire meal. You eyes are usually bigger than your stomach. This is especially true in most restaurants. One idea is to split a meal with a friend or partner.
Plan your daily meals. Doing this can be good so you are not tempted to keep buying fast food or snack on anything.
Exercise. This can boost your energy and help you lose weight faster. Do cardio to get your blood pumping and you'll start to burn those calories.
Drink enough water. Most people don't drink enough water each day. As you exercise, you will need to drink more water.
Don't give up. Stay motivated and confident. Be consistent with your exercise and food adjustments and you'll soon be losing weight fast.