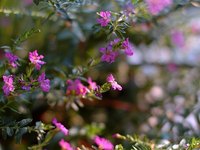 Mexican heather is a lacy plant, also known as "artificial heather," with a fern-like texture and tiny white, purple, or pink flowers. The flowers continuously bloom in either partial shade or full sun. Mexican heather is a tender tropical shrub. It is killed by temperatures below 28 degrees F and is considered an annual in most of the United States. The best method of wintering Mexican heather is to root cuttings for spring planting.
Cut shoots when they can be bent easily and have leaves that range from new growth to mature. July or August will be optimal times for cuttings. Cut a three- to five-inch shoot from a hardy section of the plant.
Place the cuttings in water to root. Keep the bottom third of the cutting in water. It may help to cover loosely with plastic wrap and secure. This maintains humidity levels for the cuttings.
Transfer to a three-inch pot filled with commercial rooting medium when roots appear on the bottom of the shoot. Rooting medium should be sterile and drain well.
Place the rooted cuttings in a well-lighted window or use a plant light in the winter months. Water regularly.
Transplant to the garden in the spring, after the danger of freezing has passed. Space well apart, as Mexican heather will spread quickly.