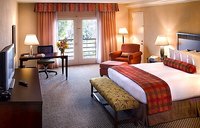 It takes more than a sparkling sink and shower to turn a hotel room into a home-away-from-home; it also takes style, creativity and sensitivity to design a restorative chamber that's as soothing and restful as it is convenient and affordable.
Things You'll Need
Blueprint or room layout
Design board
Wholesale decorating sources
Assess the dimensions of the room or rooms you are being asked to design to figure out how to make the most of the floor area and wall space. Obtain a blueprint of the room with exact dimensions so you can choose furniture that fits the space. Ask management whether you will be required to follow corporate color guidelines to design the room or whether you have carte blanche to choose your own palette.
Query staff of the hotel or check with staff at nearby hotels to find out what types of travelers the hotel attracts. Ask if business supports the facility most heavily or whether families with children choose the hotel due to its proximity to attractions in the area. Use the feedback you get to begin formulating your design plans.
Obtain a budget and ask whether that budget has already been subdivided into line items for furniture, electronics, carpet, drapes and room purchases, or whether you may use the decorating budget as you wish to design the room. Visit local furniture marts, wholesalers or shops to choose furniture if you are creating a one-of-a-kind room. Take photos of the pieces you've chosen. Alternately, order multiple furniture units from a hotel/motel furniture supplier if you have been asked to design multiple rooms.
Prepare a design board for decision makers. Include the photos you took in step 3, swatches of fabric, wallpaper, paint and furniture chips. Explain why you've chosen dark colors--if your goal is make the room look small and intimate--or light neutrals to create the illusion of more space in a small room. Tout the benefits of materials you've picked (e.g., stain-resistant carpet and fabric and easy-clean furniture). Get approvals for everything in writing before you purchase anything.
Shop for the items on your list and oversee the installation. Give specific instructions to painters and wallpaper hangers. Work with staff to make certain all of the furniture is placed in such a way that it's easy to navigate the room per your layout. Make certain there's plenty of lighting adjacent to beds and work areas. Arrange tables, chairs and desks with convenient access to electrical outlets. Scan the room and remove or relocate to drawers and closets anything that makes the room look cluttered.
Add signature touches for which your newly designed hotel room will become known. A popular addition is a docking station to stow and charge the many electronic gadgets travelers bring along, and you won't go wrong with plenty of pillows, high-thread-count cotton sheets and towels folded into animal shapes. Live plants make nice additions, too.