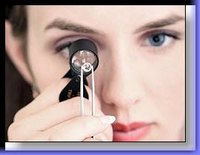 If you want to find decent quality diamonds sold at prices below those charged by mall jewelry stores, visit some local pawn shops. Pawn shops with good reputations have repeat clientele who like to bargain-hunt jewelry. Many are located in reputable commercial locations. Pawnbrokers are not certified gemologists and may price diamonds by carat size first, and then by their perception of a stone's appearance (color and brilliance) using a 10x jeweler's loupe. Learn a few perceptive tips and then make a hobby out of treasure hunting for diamond bargains. Diamonds do not wear out like old furniture, so diamonds in pawn shops really are not "secondhand goods" -- they are just priced that way.
Things You'll Need
Diffused light source
10x magnification jeweler's loupe
Clear plastic metric ruler
Genuine diamond "practice" items
Find a diffused light source (fluorescent, shaded bulb, diffused sunlight) to grade the diamond for brilliance without aid of a jeweler's loupe. Some jewelers and pawn shops use recessed halogen spotlighting over showcases to artificially enhance diamond brilliance. Another technique is the use of blue dichromatic filters to alter a stone's true color for a whiter appearance.
Check the diamond's ability to reflect the full light spectrum of color, but in diffused light environments. Diamonds of good to excellent cut will reflect some level of rainbow-color flashes under these conditions. Diamonds of lower-grade cut will reflect only white light.
Check the diamond's cut for "nailhead" or "fisheye" characteristics. A diamond with an overly deep cut will have a darkened center (nailhead effect). Diamonds with an overly shallow cut will have a white ring (fisheye effect) around the diamond's top table facet. Diamonds of symmetrical and proportioned cut will reflect light evenly throughout the stone's facets.
Using the jeweler's loupe, check for obvious natural imperfections. Research the Internet for photographs of diamonds with inclusions, feathering and other anomalies so you know what you are looking for.
Using the metric ruler, measure the millimeter dimensions of the stone from side to side and front to back. Diamonds generally come in predefined shapes of 4.5 by 5.5 millimeters, 8 by 10 millimeters or 4 millimeters (when square), so learn to associate these generally standard sizes with their carat weight equivalents. For related study and reference concerning all aspects of this hobby, visit http://www.ajediam.com/index.html.
Ask a shop employee to hold any diamonds you have located that seem promising, and repeat the previous steps with each one you select.
Gather your selections and compare them with each other for variations, as differences may be more evident when your selections are grouped.