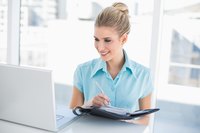 A well-planned job schedule is vital to manage labor costs and still meet customer needs. For businesses that do not operate on a 9-to-5 timetable, creating an effective schedule often requires varying the times employees arrive and leave to account for varying customer traffic patterns throughout the workday and work week. You'll need to estimate labor requirements, reconcile these needs against the payroll budget, create a scheduling strategy and develop a contingency plan.
Estimate Labor Requirements
Estimate labor needs at various points in the schedule. To do this, analyze sales revenue reports, foot traffic reports, job schedules and any notes about scheduling issues for the same period in the previous year. Look at peak hours, dead hours and labor hour distributions according to job roles and responsibilities, then compare these to this year's sales forecast. Make any necessary adjustments to account for an increase or decrease in sales revenue predictions and overstaffing or understaffing in the previous year. Next, tally the total labor hour estimate and distribute the total over the days and shifts in the scheduling period.
Compare Needs to Payroll Budget
Review approved time-off requests and compare labor needs against a staff list that identifies each employee, their roles, relevant job skills and availability according to their current work status -- full-time, part-time or on leave. Reconcile labor costs with the payroll budget. The Food Service Warehouse suggests you calculate the average hourly wage for specific job roles and then multiply the average hourly wage by the number of hours you plan to schedule for each role.
Schedule Employees
Create a job schedule that ensures each shift has the right number of full-time and part-time employees without exceeding budget constraints. For instance, first schedule full-time employees, who work a standard schedule. Then, stagger start and stop times for part-time employees to allow for extra coverage during peak hours and less coverage during dead hours. Create a mix of experienced and inexperienced employees, and schedule employees according to primary and secondary roles and responsibilities, such as cashiering when the store is busy and straightening shelves during lulls.
Develop a Contingency Plan
Incorporate a Plan B into every job schedule to account for personal emergencies, illnesses or a no-show employee. A proactive plan that includes an availability chart, an on-call list of employees and clearly defined procedures that allow employees to trade shifts can be helpful to cover emergencies. For shift trades, specify that managers have the final authority and right to approve or deny any switch requests.