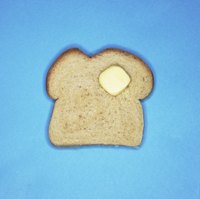 Don't you just love the taste of real butter? It's so yummy! And it's not full of fake ingredients like margarine. The trouble is, when you want to spread butter on bread, it's too hard. You can buy spreadable butter, but it's expensive. You can save money by making your own spreadable butter.
Things You'll Need
Real butter
Canola oil or vetebable oil
Butter extract (optional)
Yellow food color (optional)
Let your butter get soft. Take your butter out of the refrigerator and let it sit at room temperature until it gets soft. Do NOT melt the butter. Just let it soften on its own until it is easy to mix.
Add the oil. Put your butter in a bowl and add the canola oil (vegetable oil yields good tasting results). Add 1/2 cup of oil per stick of butter. Mix the butter and oil well until it's completely mixed. You may also use a food processor if you like, or a hand mixer. If mixing by hand, try to use a small whisk. If it's lumpy just let it sit out on the counter a bit longer, then mix again. It will be very soupy! Really, really soupy. You will probably think 1/2 is too much oil, but it will get hard again. Have faith!
Add butter extract. If you think the canola oil takes away from the butter flavor or if you just want butter that has a robust butter flavor, you can add a few drops of butter extract to the mixture while you are mixing it.
Add yellow food color. If you like the look of yellow butter, you can add a drop or two of yellow food coloring while you are mixing in the oil. You can also add other colors to make funny butter that your kids will love to spread on their bread or to add to their pancakes!
Put your butter spread in any container with a lid and store it in the refrigerator just like you would margarine. The next time you need to spread butter on your toast or bread, it will be soft and ready to spread.